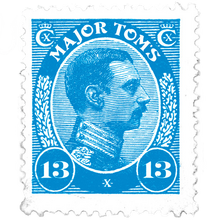 Major Tom's is a Record Label setup by Rudimental to develop outstanding new artists. 
As Amir Amor and Piers Agget says in the interview for Musictimes.com:
'Major Tom's started as a way for us to (firstly) keep our outside influences and be confined within our own environment. It naturally was that anyway. It started as a way to keep our singers as part of the family and then when they're ready to fly away, they'll fly away with us still working with them producing, writing and things like that. On the first album, obviously we discovered some artists who went on to do massive things on their own [...] like Anne-Marie, that we're going to put out through Major Tom's and through our future albums as well.'
'Major Tom's is like the Rudimental Academy of Music, School of Excellence. There's a quote for you. If you look at it like how school is run.'
Relationship with Anne-Marie
Edit
When one of the Rudimental's vocalists left, they asked Anne-Marie to replace her. She featured on four tracks on their album We the Generation, and spent two years touring alongside them.
On 10 June 2015, Anne-Marie released her debut EP, Karate, which went out on the then-new label Major Tom's; two singles were released from it, "Karate" and "Gemini", which led to Anne-Marie making her first solo live performances. In November 2015 she released "Do It Right".
External links
Edit
References
Edit